Special Ads
The printing plant of the publishing house Süddeutscher Verlag is not only well known for its high standards in quality newspaper printing – we also have taken a leading role in developing exclusive and high-grade special ads. We see ourselves as an innovative service provider for the cooperation between publishing houses, advertising agencies and customers. As a result of this close and productive communication we have caused a sensation among experts in the last few years.That's why we want to give you a short presentation of some exceptional ad formats; if you have any questions, suggestions or new ideas just feel free to contact us.
---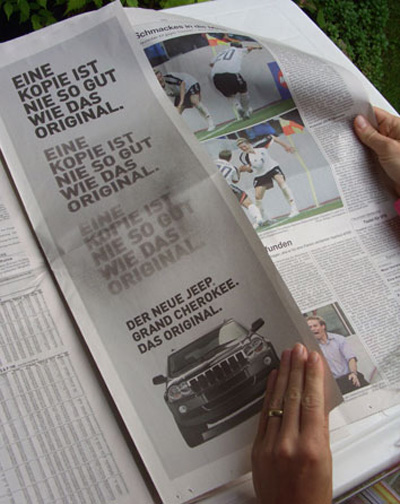 Flying Page
The Flying Page is a full format page, which is horizontally folded and wrapped around a book or section of a newspaper.
---
---
---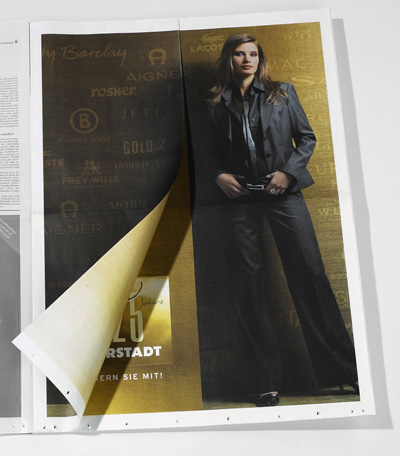 HalfCover
In contrast to the Flying Page a HalfCover consists of a half and a full format page; it can be wrapped around a book or section or can be integrated into it. Furthermore there is a possibility for full-bleed printing of the half page.
---
---
---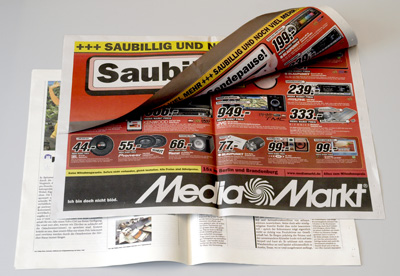 OpenUp
Only for Tabloid products; it is possible to flip open the middle sheet half- or full sized up to the top; full bleed printing for the additional pages is possible.
---
---
---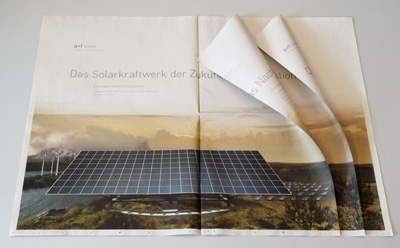 Stepped Fold
Thanks to a special way of folding, it is possible to print 8 partly full bleed printed pages with different widths in one section to get the stepped impression.
---
---
---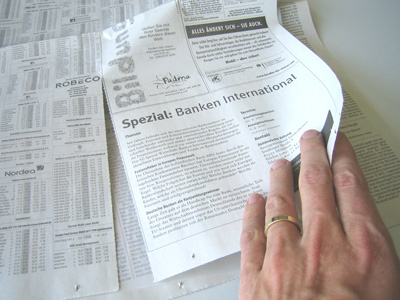 Perforation
For broadsheet products there is an option to provide special ads with a vertical perforation, for tabloid products it is possible in horizontal direction – the individual position is freely selectable, the perforation runs over the entire height of the page.
---
---
---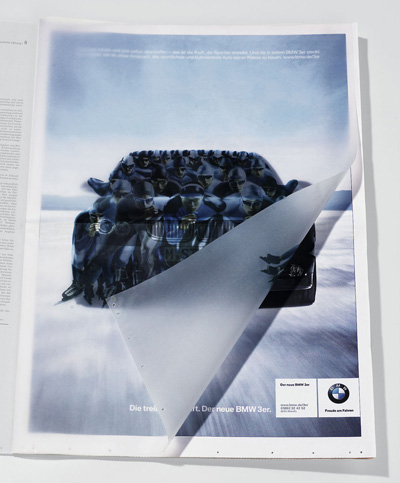 Transparent Paper
In combination with the corresponding, conventional page a unique interaction for advertising motives is possible. Transparent paper is printable in non coloured or coloured versions; also a single page can be used.
---
---
---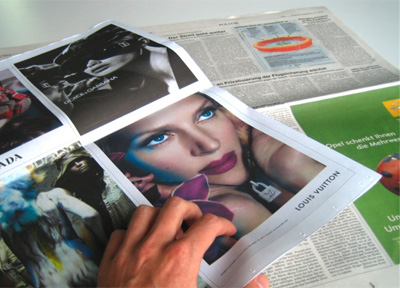 Alternative Types of Paper
In addition to the common paper qualities we also print on papers with higher grammages, with higher brightness and/or special kinds of refined surfaces.
---
---
---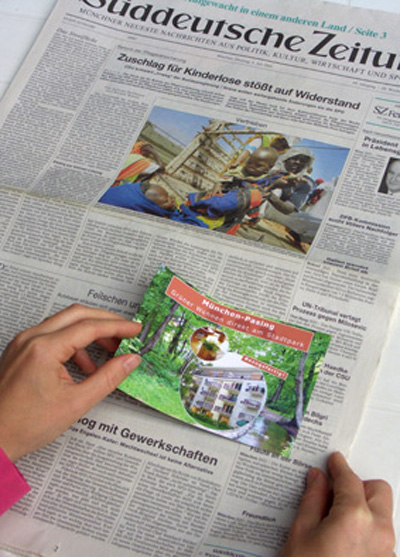 Card Gluer
With the opportunity of attaching a postcard or a similar format to the front side of your broadsheet or tabloid product a maximum of publicity can be achieved.
---
---
---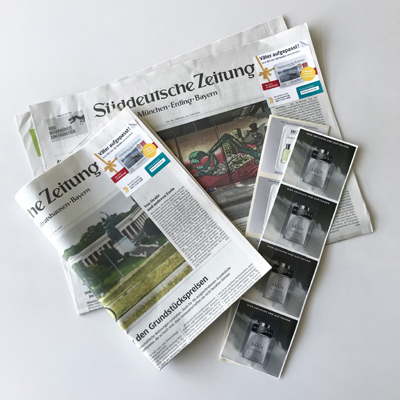 MemoStick/MemoScent
You can achieve a very special advertising appearance with the pouring out of a nearly square, easily redetachable adhesive note on the front of a newspaper product, which is printed with a sales incentive and / or provided with a sample of goods (fragrance, lotion, etc.).
---
---
---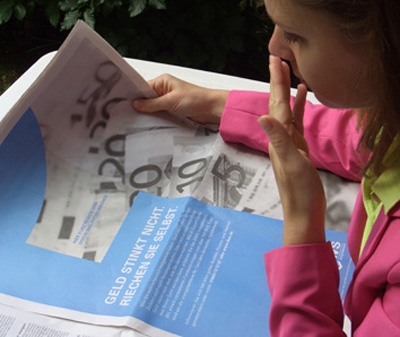 Scented Inks
There is a range of more than 130 different fragrances you can choose from. You can replace one of the four process colours with the special scented varnish or add the encapsulated fragrance to the dominant process colour of the ad.
---
---
---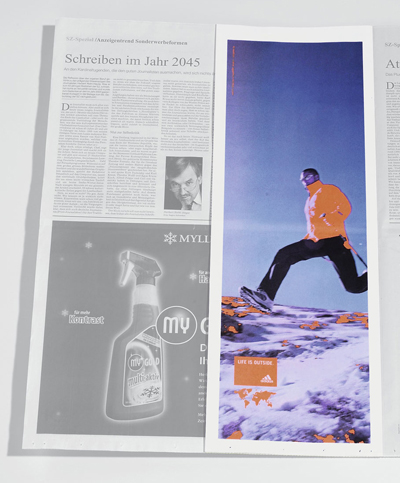 Special Colours
Even metallic or fluorescent colours are printable in combination with suitable paper.
---
---
---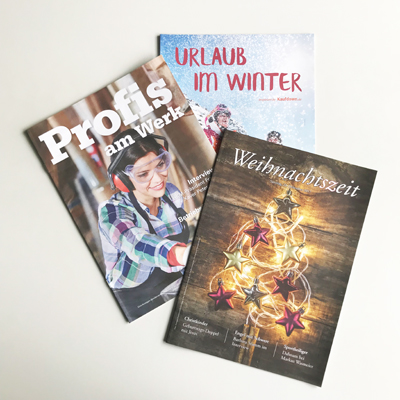 Newspaper Magazines
We produce so-called newspaper magazines for the presentation of high-quality advertising motifs and content from special subject areas such as leisure, sports, business and culture. The printing is usually done on improved paper grammages, then the tabloids are stapled on the back with two staples and provided with a smooth three-side trimming. In addition, it is possible to provide the magazines with an envelope in higher quality, scopes and formats are variable and available on demand.
---
---
---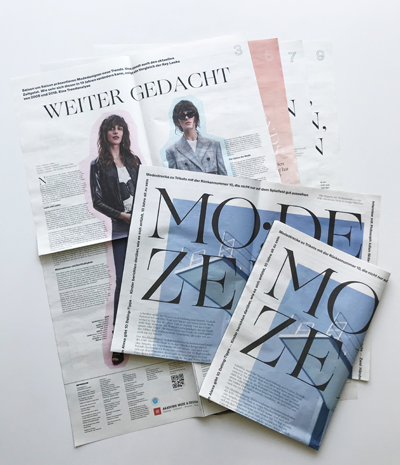 Broadsheet Magazines
A very special highlight: Large-format panorama pages, one inside the other and cropped. Ideal for both artistic and advertising purposes, the use of different paper qualities is possible. The final format moves just below the unfolded Nordic panorama sheet.