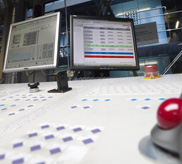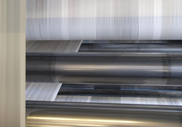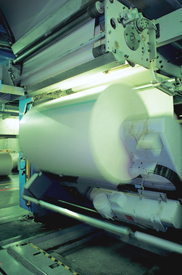 Press Department
The press department consists of six printing sections, each with three four-high units and a folder of a MAN Colorman 10-cylinder satellite system and two four-high units and a folder of a KBA Commander 9-cylinder system.
Both types of machines print with Northern Format. Usually these configurations allow up to 48 four-colour pages; by means of special coupling variations it is also possible to print up to 96 pages.
Every MAN four-high unit includes a full automatic reel splicer for flying reel change. All printing machines are equipped with an operating system from ABB. The individual set-ups of production parameters like the web tension or the dosage of ink and dampening solutions are adjustable on special controlling desks. The web runs through the machine at a maximum speed of up to 13.6 meters per second, therefore we are able to print up to 43,000 copies per hour (collecting modus).
The printed webs run one upon the other over a folder, led by special infeed and draw rollers to the jaw folder section. There the web is taken over by rotating pins and the web is cut. After the transversal folding the newspaper products are collected with a fan wheel and put down on a conveyor belt to transfer them to the post-press department.
Dipl.- Ing. (FH) Robert Heitzer (Mgmt.)
Phone: +49 89 2183 – 8060
Fax: +49 89 2183 – 8144
robert.heitzer@sueddeutsche.de