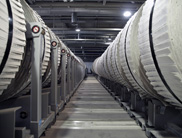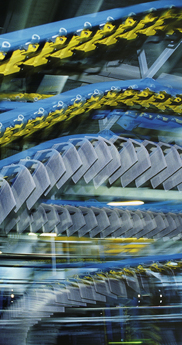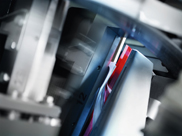 Post-Press Department
Fresh off the press, the printed newspapers are taken over by special grippers of conveyor chains to transport them to the post-press department. Before being delivered to the mailroom, all printed products are temporarily stored in a fully automatic disc storage. Aproxm. 1,000 product reels can be buffered with up to 120,000 pages. Depending on the usage of the various products they can be unwound right after the upwinding process. So called pre-products are stored for one or two days until they are needed to complete the newspapers. Even commercial inserts can be stored in the disc storage.
The final completion of the newspaper with pre-products and commercial inserts happens at the FERAG Multi-Sert-Drum (MSD). It is a rotating system, where up to 8 different print products, coming from the automatic disc-storage or from manual infeed sections, can be inserted into the main-product. After that, newspapers can be addressed with special inkjet-units to dispatch them per mail. The completed newspapers are guided by conveyor chains to stacking and packaging units.
At the stacking unit newspapers are gathered and crossed to bundles. At the packaging unit these bundles are completed with a cover sheet, which includes special information about the product, the number of copies and the destination. After shrink-wrapping with transparent foils and cross-strapping the finished bundles are pushed out on four corresponding ramps of each production line to the delivery trucks.
To ensure a high flexibility of the production there is a possibility to trigger all ramps without the reference to the relevant production lines with the help of a superordinate conveyor belt, so that the logistic department is able to load their carriage on each ramp which is necessary.
With the help of the cutting drum SNT-U from FERAG previously printed and stapled tabloid products can be provided with an additional three-side trimming. This is primarily for the production of higher-quality newspaper magazines, in which for inner part and envelope usually higher-quality papers are used.
Dipl.-Ing. Günter Schaller (Mgmt.)
Phone: +49 89 2183 – 80 89
Fax: +49 89 2183 – 80 66
guenter.schaller@sueddeutsche.de